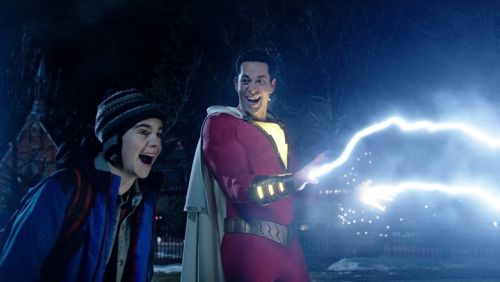 After electrifying critics (with a 91% 'Certified Fresh' rating on Rotten Tomatoes with 211 reviews), DC's 'SHAZAM!' is the Number 1 film in the world at its opening weekend, with worldwide box office takings of $159m. More info here
The movie, starring Zachary Levi and directed by David F. Sandberg continues to be a huge hit with audiences, with over 90% positive audience reviews on Rotten Tomatoes and an 'A' rating on CinemaScore.
Benjamin Wallfisch is so grateful to have been invited to be a part of this incredible movie. His original score has been released by WaterTower Music and is available now
Synopsis: We all have a superhero inside of us -- it just takes a bit of magic to bring it out. In 14-year-old Billy Batson's case, all he needs to do is shout out one word to transform into the adult superhero Shazam. Still a kid at heart, Shazam revels in the new version of himself by doing what any other teen would do -- have fun while testing out his newfound powers. But he'll need to master them quickly before the evil Dr. Thaddeus Sivana can get his hands on Shazam's magical abilities.